About us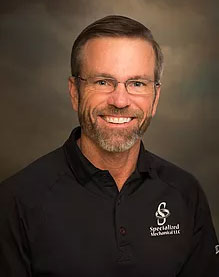 Phil Engle, Owner and Technician
If you're looking for heating and cooling services or expertise in Richmond and surrounding areas, look no further than Specialized Mechanical. We've have over 25 years experience, so our staff is knowledgeable and fully trained on a full range of HVAC products, maintenance, electrical, technology - you name it. We offer dependable, quality repair and replacement services and 24-hour emergency service. We do professional, quality work for everything we do so you can enjoy a more comfortable home or business.
Aside from offering excellent service, we're a Lennox Dealer. That means we offer a wide range of high technology and innovative Lennox HVAC products. If you've heard the Lennox name before, you probably know about its dedication to creating quality equipment through continuous innovation. When you work with Specialized Mechanical, you'll find products that may be more efficient and could even help reduce your utility costs.
Specialized Mechanical's continued success is directly related to our commitment to customer satisfaction and the passion of our dedicated employees who help to fulfill this commitment. We build our customer relationships one at a time, developing long lasting relationships. Our dedication to ethical excellence and high standards set us apart from other HVAC companies in Eastern Indiana.
We are firmly committed to honesty, integrity and excellence. Whether you need heating and cooling services such as repair and maintenance, or you need to replace your HVAC system, we're ready to help. Call Specialized Mechanical in Richmond at 765-935-2299 to learn more.
Quality Equipment, Knowledgeable Staff, Superior Workmanship and Service After The Sale Makes Our Comfort Systems The Best!
John 14:6
Jesus Christ is the way, the truth, and the life